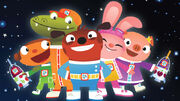 Astroblast is an American 2D CGI animated series. The series is co-produced by Scholastic Media and debuted on Sprout on July 12, 2014. It began airing on NBC Kids Saturday morning programming block, October 4, 2014. It is based on the book series "Astroblast!" by author and illustrator Bob Kolar.
Sputnik, Haley, Radar, Comet, and Jet are five fun-loving animals who live with their alien octopus friend Sal in the Astroblast Space Station, which also houses a large library and a smoothie cafe called the Frosty Star.
Characters / Crew
Edit
Sputnik is a pig who wears purple. She loves to read and is depicted as being very knowledgeable.
Halley is a rabbit who wears pink. She is depicted as being daring, fun-loving, and a thrill-seeker.
Comet is a dog who wears blue. He is depicted as the leader of the group, and likes exciting and loud things.
Radar is a monkey who wears green. He is depicted as being athletic, but he's also a bit of a sore loser.
Jet is an alligator/crocodile (species unknown) who wears orange. He never talks, but he is very expressive and everyone understands his gestures.
Sal is a purple, three-eyed space octopus. He often shares his "gam-gam" (grandmother)'s advice whenever there's a sticky situation.