The Berenstain Bears
is a Canadian-American animated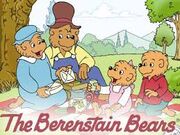 television series based on the popular children's books of the same name written by Stan and Jan Berenstain (and eventually their son, Mike Berenstain). The show follows the everyday lifes of a family of bears, who learn a moral or safety-related lesson during the course of each episode. The series debuted on PBS Kids in the United States on January 6th, 2003, and ended on September 28th, 2004.
The series takes place in a town populated entirely with bears called Bear Country, the hometown of the Berenstain Bears. The Bear family consists of Mama, Papa Q., Sister, and Brother Bear (as well as baby Honey, who doesn't appear in the series). Most episodes involve Brother and/or Sister facing some sort of issue, such as forgetting their manners or being teased. They ask either Papa or Mama on what to do, and they give them a piece of adivce. The cubs then learn to face their problems the right way.
Characters
Edit
Papa Q. Bear (voiced by Benedict Campbell): The father of the family. He is often wrong but never in doubt. He is a workshop owner and rough carpenter - the roughest. He also digs going fishing and catching fish. He also digs honey as well.
Mama Bear (voiced by Camilia Scott): The mother of the family. She is beautiful, warm, wise and sometimes sarcastic. She is president of the Bear Country Garden Club and is a champion quiltmaker. Mama's favorite recipe is honey cured salmon. 
Brother Bear (voiced by Michael Cera): The son of the family, originally named Small Bear. He loves all sports but his favorite is soccer. He is often heard to say, "soccer is how I get my kicks." He is also a big fan of T. Rex dinosaurs and model airplane building. 
Sister Bear (voiced by Tajja Isen): The daughter of the family. She is an excellent jump-roper and despite her cuteness and beauty can sometimes be a bit of a sarcastic show off when she doesn't know it. Sister also hates gym class and once even tried to get Mama Bear to let her stay home from school.
Theme Song
Edit
SOMEWHERE DEEP IN BEAR COUNTRY
LIVES THE BERENSTAIN BEAR FAMILY 
THEY'RE KIND OF FURRY AROUND THE TORSO
THEY'RE A LOT LIKE PEOPLE, ONLY MORE SO

THE BEAR FACT IS THAT
THEY'RE JUST LIKE YOU AND ME
THE ONLY DIFFERENCE
IS THEY LIVE IN A TREE

THE BERENSTAIN BEARS
WHEN THINGS GO WRONG AS THINGS MIGHT DO
THE BERENSTAIN BEARS WILL FIND A WAY THROUGH
MOMMA, POPPA ,SISTER AND BROTHER
WILL ALWAYS BE THERE FOR EACH OTHER

THE BEAR FACT IS THAT
THEY CAN BE SWEET AS HONEY
SOMETIMES YOU'LL FIND
THEY MIGHT BE JUST PLAIN FUNNY
THE BERENSTAIN BEARS
THE BERENSTAIN BEARS 
Trivia/Goofs
Edit
Due to an animation problem, the polka-dots on Mama and Sister's clothes were removed removed, as well as Papa's stripes.
There is a fan theory on the Internet saying that people who remember The BerenstEin Bears with an E, are from another universe, different from ours.